Sunny chalk plant combination
Buy all 9 items for the combination

within 3 weeks
Total: £85.91
A pretty border that will come into bloom from the middle of summer. The loose clusters of bell shaped flowers of the milky bellflower perfectly complment the silvery pink of the rock rose. These are followed by the vivid cobalt-blue flowers of the hardy plumbago from August to October.
Planting tips: You should protect the tender foliage of the Campanula from slugs and snails and deadhead regularly to encourage new flowers to form. The Ceratostigma will need the flowered shoots cut back to within 2.5cm of the old growth in early or mid-spring, while the Cistus should be pinched back after flowering to encourage a bushy habit. All the plants will benefit from a generous mulch of well-rotted garden compost or manure around their base.
You will need a border measuring 3m x 1.5m with chalky soil.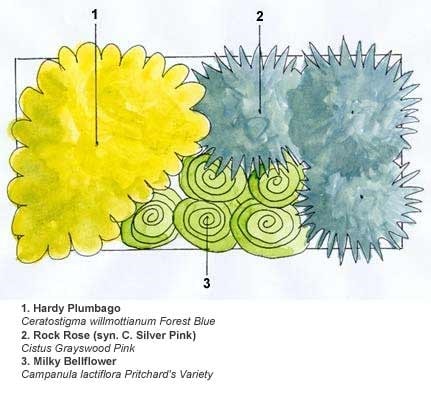 items included (click on thumbnail for more info)