Pinks & purples plant combination
Buy all 10 items for the combination

The deliciously scented flowers of the daphne appear in early spring and herald the start of the year. This is closely followed by the bleeding heart with its delicate arching sprays. The foxgloves start to lift their towering spires, and by summer the Clematis is producing its rich purple blooms. Finally in the autumn, the vibrant wands of violet-mauve are produced by the big blue lily-turf. A great border of you want a procession of interest.
Planting tips: In early spring cut back the previous year's stems of the Clematis to a pair of strong buds about 15-20cm (6-8in) above ground-level and let it scramble through the Daphne. The main flowering stem of the Digitalsi can be cut back when finished to encourage more to come. You should also lift anfd divide large clumps of the Liriope and Dicentra in late autumn or early spring, and apply
You will need a corner bed measuring 2m x 2m.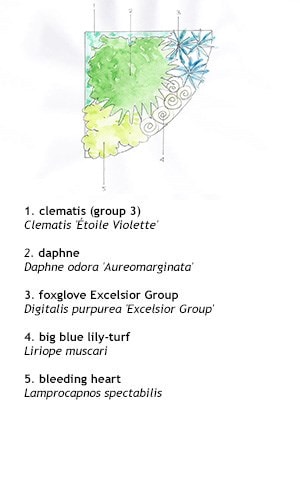 items included (click on thumbnail for more info)