Design ideas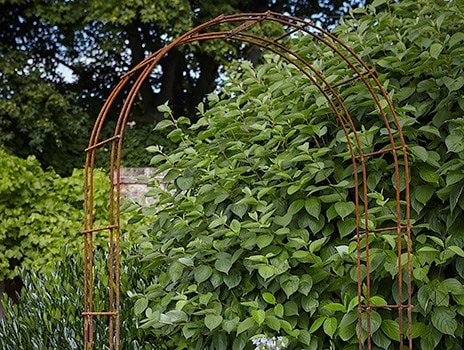 Attention to detail is the key to making the most of any garden. Not only will you improve its overall appearance, but these small yet significant changes will make your garden more enjoyable to use and easier to look after. I am not talking about a make-over or redesign, since even minor improvements can make a big difference.
For example, by adding a striking focal point, such as an attractive urn, bird bath or architectural plant, to an otherwise dull border, you can transform its overall appearance. A simple seat, nestled in a sunny corner, can have a similar effect. You can double the impact of any focal point by framing it with an arch or focusing attention on it using the sight lines of surrounding features to direct the casual viewer.
You can double the impact of any focal point by framing it with an arch or focusing attention on it using the sight lines of surrounding features
Patio upgrade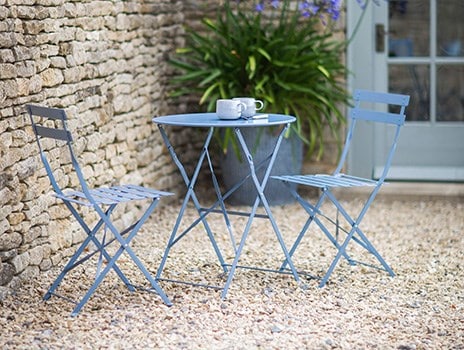 Most patios suffer from the same drawbacks: angular and boring to look at and rather too exposed. You can make your patio seem a lot more welcoming by providing some shelter from the sun and prying eyes. Temporary, yet attractive, screens are easy to make out of panels of trellis joined with hinges, so they can be set up zigzag-fashion for stability. Or you can make them more permanent by attaching reed or hazel screens to troughs, planted with fragrant flowers and attractive climbers.
Add outdoor castors, and these 'screening troughs' can be mobile, too. You can soften the stark appearance of a patio by planting borders along the edges with overflowing foliage and replacing the occasional paving slab with fresh soil and creating planting pockets finished off with a pebble or slate mulch. You can even plant up the cracks between paving slabs by sowing or planting tough, drought-tolerant, ground-hugging plants such as Aubrieta 'Purple Cascade', Campanula carpatica 'Blue Clips', Dianthus deltoides 'Arctic Fire' and Thymus pseudolanuginosus.
Use collections of containers and pebbles to add interest to dreary corners and repeat the theme around the patio for continuity and added impact. For me, though, the simplest way to improve a patio is to add fragrant plants in containers and to nearby borders. Scented lilies make a visual statement in pots, while nicotiana and sweet rocket will perfume nearby borders alongside a permanent planting of philadelphus, phlox and roses.
Keep your garden tidy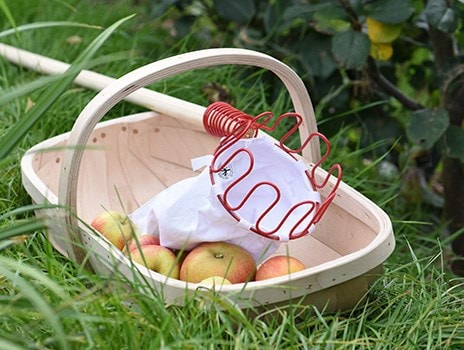 Tidy hose Keep that snaking hosepipe out of sight by adding a cast-iron hose tidy or a terracotta hose pot alongside the outside tap.
Compost saver In the potting shed, a potting tray will help make potting easier and keep compost off the floor and out of your wellies.
Seed storage Never miss a sowing date or mislay a seed packet during the busy sowing season by storing left-over seed in a seed organiser.
String storage If you are always losing your ball of garden twine or spend hours trying to untangle it when you do, a string tidy might be the answer.
Neat wellies Stow away that untidy heap of muddy wellies and garden shoes with a strategically positioned boot rack or boot airer that will help dry them out, too.
Border edging Prevent flowers from flopping over the lawn and give beds and borders a perfect finish by installing decorative hurdle edging.
More flowers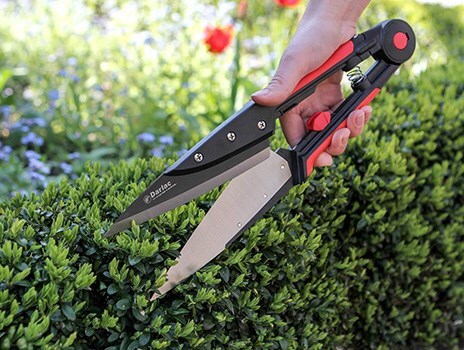 Many flowering plants can be encouraged to flower for longer or produce a second display later in the summer by deadheading faded blooms. For example, you can improve the overall display of bedding plants, such as pansies and petunias, by cutting back the tired and bedraggled shoots to newer shoots nearer the base.
Then give them a good feed and water to encourage new growth and further flowering. Plants that produce tall flowering shoots, such as snapdragons, can be encouraged to flower for longer by removing the spent flower spikes – cutting back to a sideshoot lower down the stem.
It is a lot quicker to use shears to deadhead small-flowered bedding plants rather than trying to pick off flowers by hand. If you have problems with prolific self-seeders, such as lady's mantle and hardy geranium, scattering unwanted seedlings all around, give these a trim immediately after flowering.
Improving borders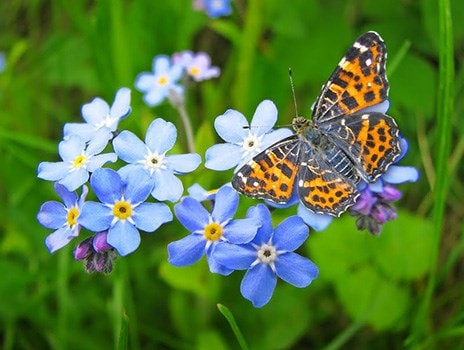 If you keep new additions well watered, it is still worth adding new plants this month. For maximum effect, concentrate your efforts on prominent spots, such as next to an entrance or garden gate, around the patio and near the back door. If the new plants are concentrated in one area they will also be easier to look after. Some areas are easier to plant successfully than others, so here's some proven combinations you might like to try:
Damp shade - primulas, hosta and hardy fern
Sunny slope - alchemilla, hardy geraniums and vinca
Hot spot - achillea, perovskia, knautia and hollyhock
Dry shade - vinca, hellebore, geranium and begonia
Summer pruning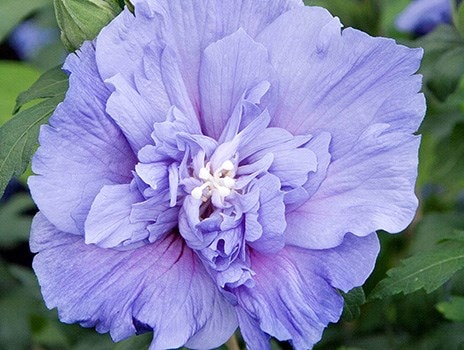 Keep wisterias within bounds by cutting back the new long whippy growth to five leaves after flowering. If you have a wall-trained pyracantha, you can keep it neat and tidy by cutting back new leafy shoots to a few leaves which will also help reveal the crops of berries in autumn.
Climbing roses can also be kept young and floriferous by pruning this month, once flowering is over. On rambling roses, prune an old stem back to ground level for every new one that has been produced from the base. Once-flowering, climbing roses can also be pruned when they have finished flowering.
Since they produce new shoots part-way up the old stem, cut back the old one to this point and tie in the new shoot to the support. Soft fruit will also benefit from a summer pruning. You can help prevent American gooseberry mildew by pruning now, to open up the centre of the plant and increase air flow. Also prune sideshoots back to about five leaves. Red and white currants can be pruned in the same way since they produce their crop on stems at least two years old. Blackcurrants, on the other hand, fruit on wood produced last year.
In this case, you can save time and effort by combining pruning and harvesting with varieties that fruit all at once - cutting out the fruiting stems to a bud near the base. Summer-fruiting raspberries can be pruned once all the fruits have been picked - cutting out the old stems to near ground level and tying in new canes to replace them for next year's harvest.
Monthly checklist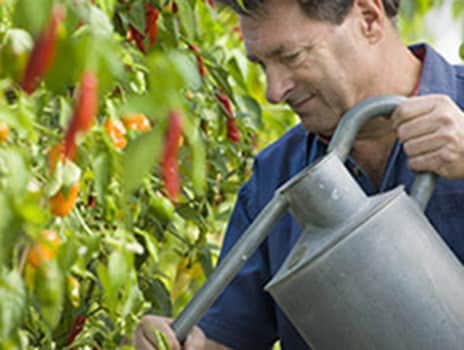 - Harvest fruit and vegetables
- Top up ponds and water features
- Feed dahlias and chrysanthemums
- Harvest herbs for drying
- Keep the greenhouse cool
- Plant out Brussels sprouts and cabbages
- Take cuttings from tender perennials
- Make a second sowing of runner beans
- Feed and water containers
- Keep weeding
Tools for the job
Inspiration & advice