Jungle fever
Give your garden the jungle-makeover using hardy, exotic, foliage plants and create a lush, tranquil oasis in the heart of suburbia, says Alan Titchmarsh
Tools for the job
You don't need flowers to create a great garden. There is plenty of dramatic variation amongst foliage plants, to create a rich and changing tapestry in sun or shade. Big leaves certainly catch the eye, but it is the inspired combination of sizes, colours and textures that produce the most spectacular effects. Foliage plants can be used in many ways within a design including: leafy backdrop; shag-pile carpet; anchor plant; striking focal point; waterside bog; shady cover; container specimen; and for covering eyesores. Foliage plants are also ideal for softening the edges of hard landscaping, such as patios, paths, walls and fences, and provide a seamless transition between contrasting features in the garden, such as pond to patio, or woodland glade to lawn.
Plants for a backyard jungle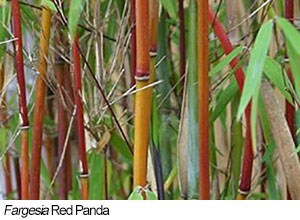 By combining the right foliage plants, you can create an ever-changing year-round display or, for a minimalist composition, a choice evergreen can provide calming continuity. Best of all, most foliage plants are easy to look after and offer a trouble-free, long-lasting display, so are an ideal choice for a low-maintenance contemporary garden. They also provide added interest during late summer, as many flower borders are running out of steam with some 'foliage plants' throwing up dramatic flower-spikes as a bonus.


Foliage focal points If you want to make a big statement, there are several large foliage plants that catch the eye. To make the biggest impression, plant them where their full architectural form can be seen, such as next to a patio, alongside a pond or lawn. You can really put them in the spotlight by surrounding them with small-leaved plants. Use perspective to your advantage, by bringing the focal point forward in the combination so that the big leaves stare you in the face and their neighbours recede. Mounding, umbrella-shaped plants, such as Gunnera manicata, Rheum palmatum and Rodgersia podophylla can be used in this way, as can clump-forming, fountain-shaped bamboos, cordylines and phormiums. Not forgetting stand-alone plants, such as the tree fern that can be used singly or in groups.


Tropical patio Many large-leaved plants make excellent specimen plant in containers. This can be the best way to grow borderline hardy jungle plants, because they are easier to protect during the winter. The false castor oil palm (Fatsia japonica) is a good choice for a large tub, while tender exotics such as Canna 'Phasion', the Japanese banana (Musa basjoo) will add an authentic tropical feel to the patio. If you have a slug problem in your garden, growing hostas and other vulnerable foliage plants in containers, circled with slug-repellent copper tape, will help to keep them out of reach of these destructive pests.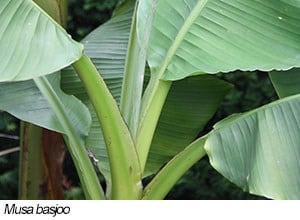 Leafy backdrops The best way to create that lush, jungle atmosphere in a small garden, is to cover as many vertical surfaces as possible with foliage climbers. Giant climbers, such as Vitis coignetiae and Parthenocissus henryana as well as large-leaved ivies, like Hedera colchica 'Dentata Variegata' will provide that overgrown, fashionably neglected look, especially when allowed to roam over pergolas and garden buildings. Smaller-leaved variegated ivies, such as Hedera helix 'Glacier' and the new Hydrangea anomala subsp. petiolaris 'Silver Lining' are also worth considering, especially if you want to add light to a shady spot.


Big-leaved trees A few trees that produce fantastic foliage, such as the Indian bean tree (Catalpa bignonioides) and the golden elder (Sambucus racemosa 'Plumosa Aurea'), can be brought down to eye level by regular pruning. Once established, they respond to being cut back annually during early spring – either to knee-high stumps or a shade-producing, umbrella tree that makes an excellent jungle centrepiece. The extra-vigorous new growth will not only be easy to see, but the leaves will be bigger and better, too.


Ready-made border: Steamy Jungle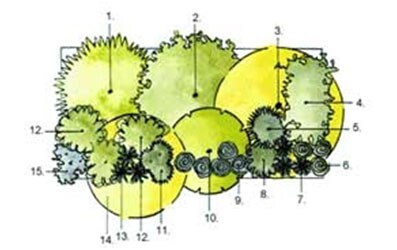 All the plants chosen for this border are hardy in all but the most inhospitable environments. The tropical look can be easily obtained when you choose plants with bold leaf shapes. The majority of the planting includes a wide variety of leaf shapes and colours with a smattering of colourful flowering plants thrown in. Really dense planting helps give the feel of a genuine jungle, where seeds drop to the ground and plants struggle to become established, clambering over their neighbours competing for light and space. It is important to get a variety of heights so that the taller ones form a canopy overhead, while the lower growing plants shelter below, carpeting the ground. For a truly authentic feel, finish the planting off with a mulch of chipped bark. This plan is for an 8x4m border in semi-shade.


Jungle foliage selector