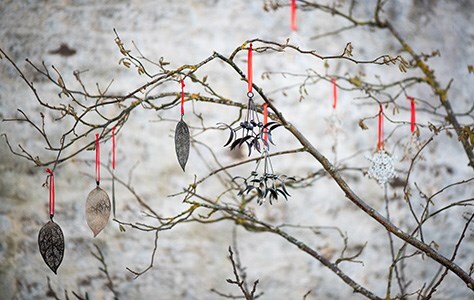 Christmas patio
If you're holding a party, having visitors to stay for a few days, or even just inviting the neighbours round for a quick sherry and mince pie, you'll be looking out from a full-on festive living room onto a garden that's … well… just plain dull and wintery.
So why not complete the picture by extending your Christmassy theme out onto the patio? It won't take long.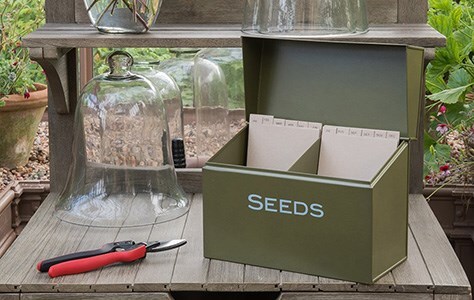 Clean up your patio
The first essential is a good clean-up. Tidy away old hanging baskets and any other patio accessories that you don't plan to use over Christmas; put them in the shed where they're out of sight.
Then give the paving a good wash-and-brush-up, and rearrange a few large pots of all-year-round evergreens, in groups, where they're easily seen from indoors. Add some colourful seasonal tubs or troughs to cheer the evergreens up.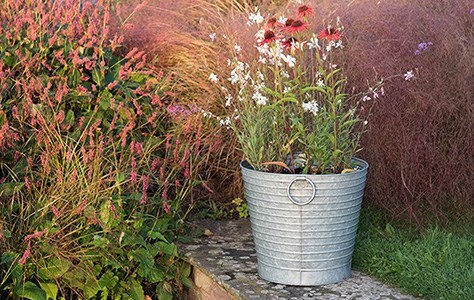 Fill up your containers
Winter-flowering heathers are a safe bet since they stand up well to bad weather, and they 'peak' at the right time. What's more they come in a good range of Christmassy reds, plus subtle pinks, mauves and purples. (Winter-flowering pansies often look a tad weather-beaten by now, and anyway they are more like spring flowers, so move them temporarily to a more sheltered spot, or stand them in an unheated greenhouse where they'll soon recover).
Meanwhile, bring in a few pots of berrying shrubs such as Skimmia or Gaultheria procumbens. Arrange them with the earlier groups; as a basic 'recipe' try using one large upright or rounded evergreen, one colourful flowering or berrying plant, plus one low spreading shape, such as a trough of ivies.
If you really want something spectacular to take pride of place on the patio, set up an outdoor Christmas tree, complete with lights. But, if you don't want to distract attention from your masterpiece indoors then go for an alternative evergreen; you might choose a fastigiate yew, a tightly trimmed bay tree, a Korean fir (which is Christmas-tree-shaped with violet cones offset against grey-green foliage), or a fair-sized potted topiary tree. A potted, standard holly makes a good centrepiece; if you can't buy one with berries, choose any well-variegated form or opt for a more unusual blue holly, whose stunning colour is sure to attract attention.
Whatever you choose, you can always give it a festive touch by adding a few red ribbons, artificial fruit or some fir cones sprayed red and wired in place, just to make it look a bit different from its 'everyday' persona. That way, it will complement and not compete with, the BIG Christmas tree indoors.
Once you are reasonably happy with your patio plant arrangements, pop back indoors to check the view from inside the living room while there's still time to make any last-minute 'tweaks'. Then think about lighting-up.
Try using one large upright or rounded evergreen, one colourful flowering or berrying plant, plus one low spreading shape, such as a trough of ivies.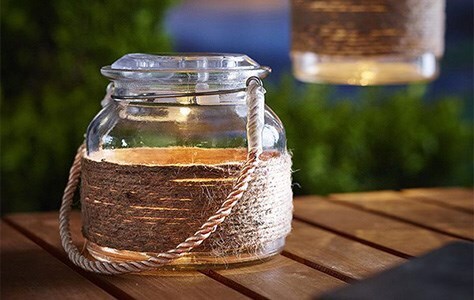 Light up your garden
A string of outdoor fairy lights outlining the patio or draped artistically around groups of potted shrubs or your centrepiece plant adds instant ambience, and shows up well, even in daytime, since light levels are so low at this time of year.
But for a more sophisticated low-key look (and ideal if you don't have anywhere suitable to plug in outdoor lights), hang up lanterns with tea lights inside – two or three round the walls and one in the centre of a small outdoor table is all it takes to transform the scene and create a living, twinkling, Dickensian, Christmas card effect.
Tools for the job
Inspiration & advice