Monthly musings: rejuvenating a geriatric garden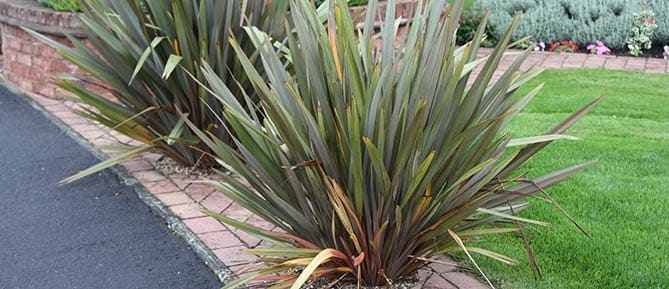 Gardens go through three distinct phases; newly planted, at their peak, and over the hill, and since most of us only move home when we have to – on average every fifteen years, according to estate agents – a lot of mature gardens are ripe for rejuvenation.
Tools for the job
You can tell that a garden needs more than routine maintenance when faded elegance deteriorates into chaos. It looks overcrowded; trees cast such heavy shade that everything underneath them – even grass - dies out, shrubs turn bare and woody or else knit together to make borders impenetrable, and perennials with thuggish tendencies run rampant while more delicate species die out altogether.
Now you might think the only thing to do is rip the lot out and start again from scratch, but a little judicious taming works wonders. When the leaves have fallen, in late autumn, assess the basic structure of the garden. Trees that you don't want to take out entirely can have their crowns (heads of branches) raised or the branch framework thinned out to let more light into the garden. You could do it yourself using a saw and long-reach tree loppers, but a professional tree surgeon will make a very good job of improving the shape of the tree at the same time as down-sizing it. If you have very big, old, damaged, diseased or dangerous trees, a qualified 'tree man' will know how best to remove or tidy them up safely, especially when branches are overhanging buildings.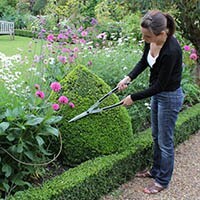 Search for him in the Yellow Pages and check that he is both qualified and insured. Over-mature shrubs are easily tidied-up with a stout pair of long-handled loppers. Unlike normal secateurs, the 'jaws' open wider and they have long handles for greater leverage, so they will tackle branches up to an inch or so thick. (If you get someone to bend a branch slightly away from the blades, as you cut through it, you'll find even a thick bit gives way a lot more easily).
When pruning a big overgrown shrub don't just snip round the edge. Choose three or four of the thickest, craggiest and baldest branches to cut right back close to the base of the plant; this removes the oldest wood that carries the fewest flowers. With those gone, tidy the shape a tad. Just shorten long branches that stick-out and make the shrub look lopsided; cut them back to their junction with a strong healthy branch. Don't do more all in one year, or the shrub merely produces masses of long, straight, whippy shoots that won't flower for years. If more needs cutting out, leave that for next year.
Now sort out perennials. Any weak weedy ones are best dug up and grown on in "pots till they've regained their strength. Old plants that have died out in the middle are best dug up and divided – save a few of the strongest pieces from the outer edge of the clump to replant. Now's also a good moment to get rid of thugs that have seriously outgrown their welcome, and replace them with something less aggressive.
Don't try to introduce small new plants to an area that's already fairly well-packed with established residents; if you're sorting out an established mixed border it's far better to clear a fair-sized area specially for replanting with new perennials, leaving a background of more mature trees and shrubs where they won't compete.
This also gives you an opportunity to clear out any perennial weeds, then refresh the soil with plenty of well-rotted organic matter before replanting. While you're at it, add a generous helping of spring bulbs to give the whole planting scheme a 'lift'. The result is as good as a new garden, but faster, cheaper and far easier.