Delivery area and costs
Delivery options
Cost
Timings
Standard delivery
£5.95

The majority of items marked as 'in stock' will be shipped within 2 - 3 working days (excluding weekends and public holidays). Once shipped, please allow 3 working days to receive your items. Please note: Your order might arrive in multiple deliveries depending on the item. For more information, please see our FAQs.
Bulb only
delivery
£4.95
Available on orders containing bulbs only (including bulb collections). Delivery prices will be automatically updated at checkout. Surcharge not applied. Excludes weekends and public holidays. Bulbs are dispatched separately so may arrive ahead of other items in your order.
Named Day
delivery
£14.95

Available on items marked as 'in stock' only. Excludes Sundays, Mondays, public holidays and all surcharge areas. Some large heavy items are excluded from Saturday delivery.
With the exception of bulbs, bedding, compost, selected pots, seeds and items shipped directly from our trusted suppliers, your orders shipment date is determined by the item with the longest available lead time i.e. if an item has a 4 week lead time. Once dispatched, we aim to deliver most items within 3 working days (exc. named day deliveries, Sunday and public holidays). Postcode restrictions apply.
Are there postcodes with restricted service?
Unfortunately, we cannot offer a delivery service to the Republic of Ireland, Northern Ireland, Isle of Man, Scottish Highlands & Islands, Channel Islands or addresses outside the UK. We can, however, deliver to the Isle of Wight and some areas of Scotland for a £10 delivery surcharge. Unfortunately we cannot deliver to BFPO addresses. To make sure we deliver to your area, please type your postcode in the box below. See our FAQs for more info.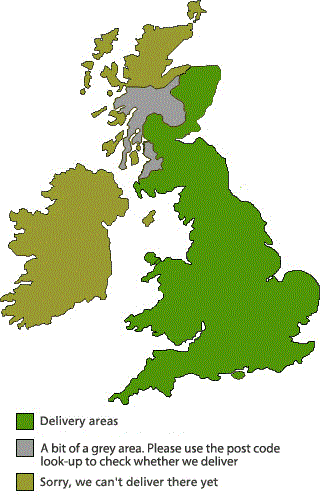 Useful information
About us
Terms of service