Planting for bees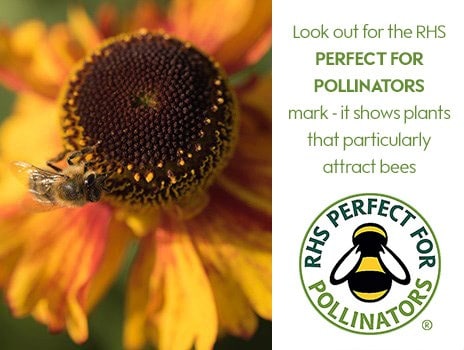 There are many different species of bees in the UK, but there are three main groups that will visit your garden; honey bees, bumblebees, and solitary bees. They come in search of two things, nectar and pollen, and are vital for pollinating your crops and flowers. By choosing the right type of plants, you can encourage bees into your garden.
Many showy plants that have double blooms or multi-petal flowers lack nectar and pollen and are very difficult to get to for bees. Choose bee friendly plants that have easy to reach pollen with open, daisy-like flowers, such as asters, cosmos and geraniums. Other plants including foxglove, eryngium and scabiosa will work really well too, especially if planted in large clusters.
To look after bees all year round, japanese anemone and actaea simplex will flower in autumn, and sarcococca hookeriana during winter.
Four of the best for pollinators
Alan shows you how to:
Encourage bees into your garden
Shop now
Home sweet home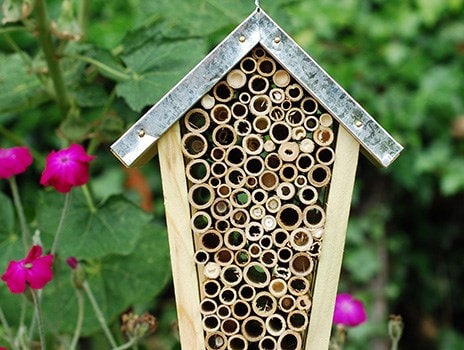 As well as bees, pollinators include wasps, hoverflies, butterflies and moths. In addition to plants, you can turn your garden into a sanctuary for insects by setting aside places to shelter, breed and hibernate. In return they'll pollinate your garden, increase your yield of fruit and veg, and bring your beds and borders to life.
Solitary bees in particular can be encouraged to nest in your garden with sites that replicate their natural habitat. They are attracted to holes in wood, so positioning a bee log or beehive where it will get lots of sun and close to a flowerbed or veg plot will draw them in. If left outside all year, they will provide the bees with protection from frost over winter too.
Simple piles of sticks and logs at the back of borders will also provide somewhere for small animals to crawl into, and bundles of hollow canes will attract insects.
Four of the best for insects