Jobs of the month - September
As summer turns into autumn, it's an ideal time to plan and plant your spring- flowering displays with bedding such as polyanthus and double daisies in combination with biennials like forget-me-nots and sweet Williams as well as most spring-flowering bulbs, including daffodils and crocus. It's tempting to plant the bulbs first and then add the bedding over the top, but you risk damaging the bulbs with the trowel when you do this, so I always plant the bedding first then carefully drop the bulbs into holes made afterwards. The spring bedding/bulb combination works particularly well at the front of prominent borders and in containers, or skirting permanent shrubs that can be seen from the kitchen windowsill.

Tools for the job
Priority jobs
Get harvesting
There's no time to lose in the kitchen garden with so many crops ready to harvest. Make sure you pick them in their prime and only store those that are in perfect condition. Pick all fruit from outdoor tomatoes and ripen them indoors or lay the plant on straw and cover with cloches to ripen the fruit on the plant. Leave the last few pods on peas and beans if you want to collect seed for sowing next spring.
Prop-up a perennial
Late-summer storms can lay waste to big-flowering
perennial
borders at this time of year. Have a few twiggy sticks to hand and a
bamboo cane
or two to prop-up flopping stems before the display is ruined. Clump-forming plants, such as asters, can be carefully corralled back together using canes and string or special proprietary linking stakes.
Protect tender plants
Before the threat of the first frost of the autumn, lift marguerites,
pelargoniums
, fuchsias and other tender perennials and pot them up or pack them into boxes topped up with slightly moist compost. These can then be overwintered somewhere frost free. Also bring in large, not-so-hardy plants in
containers
before the night temperatures fall below freezing.
Net ponds
Get ready for the autumn leaf fall by netting ponds to keep the leaves out. If the pond it too large to cover, place a temporary barrier of netting around the pond to ensnare the leaves as they blow around the garden. Clear up any leaf accumulations regularly. Unprotected ponds will act like a trap for autumn leaves which will slowly decompose and foul the water.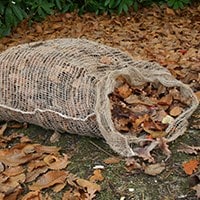 Time saver
Clearing fallen leaves from a large lawn can be back-breaking hard work. However, if you have a rotary lawmower, you can set the blades high and run over the lawn once a week to collect up all the fallen leaves quickly and easily. Better still, the leaves will have been chopped up and mixed with a sprinkling of grass clippings, so that they will rot down quickly into valuable
leafmould
.
Getting ahead…
Insulate your greenhouse
If you intend using your greenhouse for overwintering tender plants or are going to keep it heated during the winter months, put up insulation before the cold weather sets in. Bubble polythene fixed to the inside of the roof and sides can cut your heating bills in half provided you install a thermostat. But to reduce costs even further, partition off just a small part of the greenhouse to be heated using a curtain of bubble polythene, making sure there is a ventilation and good access to the heated area.
Not too late to
Plant out new strawberries
Strawberry plants
generally become exhausted after a few years and need replacing. You can buy new plants or use well-rooted runners from existing plants that were pegged down into pots of compost during early summer. Make sure that the new strawberry bed is in a different part of the garden to help reduce disease problems. Any plants left over can be potted up into larger
containers
to grow on ready for forcing in a greenhouse or conservatory during late winter.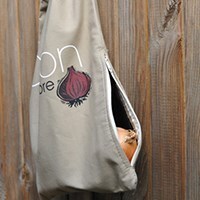 Harvest and store onions
There's still time to complete the harvesting and storing of onions. Make sure they are well ripened before harvest. Use a
fork
to ease them out of the ground to encourage ripening, or if the weather is against you, lift and place them on drying racks in the greenhouse or shed. Well-ripened onions can then be stored in plaited strings of old tights.
Happy gardening!