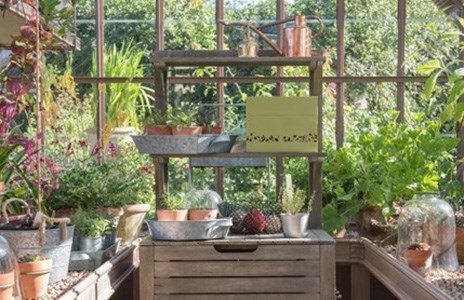 De-clutter the shed and your mind
For gardeners, a shed is far more than just a place to chuck the mower and tools at the end of the day; it's a sanctuary – the ultimate retreat from the outside world. And as such it deserves treating with respect. The trouble is, given a full gardening season's regular use, it can turn into a bit of a tip.
A good clear-out can be very therapeutic, but it has far-reaching fringe benefits. When essential gear is put away in the right place, clean and ready-to-go, you'll find that – as if by magic – a lot of the routine garden chores you usually put off suddenly become more appealing to do, and the whole garden improves immeasurably. It saves time, too. When you don't have to stop and look for things before you can start work, it's like having an extra hour in your day.
But first steps first. Start by emptying the shed completely. Then sweep up, wash out, and if need-be treat the timber with wood preservative and do any repairs – perhaps lay out some old lino over the floor, so it's easy to keep clean. Then put up a shelf unit – the big DIY stores do inexpensive flat-pack kinds suitable for storing garden sundries. You'll also need racks to hang up long-handled tools, such as rakes and spades, and several of those heavy-duty clear plastic stacking boxes with lids. These are the secret of a tidy shed; when they're not needed they stack neatly in a smallish space, but when in use they are the perfect place to store lots of small-but vital items that easily get lost – such as spare parts for garden machinery, sharpening stones, hanks of raffia and balls of twine, secateurs and penknives.
Once the boxes are stacked in a convenient corner you can then list the contents on a label stuck to the side where it's easy to see. Oh, it might sound a tad fussy, but it saves time and temper, and means a job gets done when you'd otherwise put it off indefinitely.
A good clear-out can be very therapeutic, but it has far-reaching fringe benefits.
Top Storage picks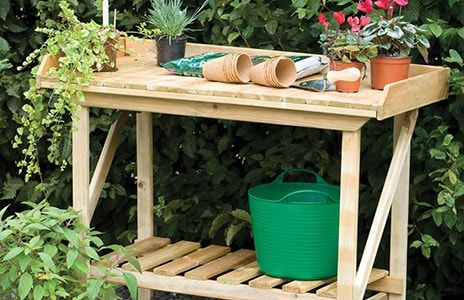 Be inspired to be ingenious
You can be quite ingenious when it comes to storage space. I've known people fit racks round the walls to slot folding garden chairs, or tack netting 'hammocks' in the roof to take spare bits of trellis and bundles of canes. It all saves valuable space, and keeps your 'stuff' accessible and in good condition.
When you've put away all those things you know you can't do without, and weeded out unwanted stuff to pass on to the charity shop, then slung out stuff you'd long since forgotten you'd got (why is it sheds always have at least one cardboard box full of empty jam jars, plus several plastic bags full of cobwebs?) you'll suddenly find fresh seams of space.
Without spending a cent, you now have a cosy little bolt-hole where you can immerse yourself in a pet project, such as crafting an artisan garden bench, hand-painting pots, or building a stylish bird table from knotty branches. There are loads of creative outlets for green-fingers during the winter, once you have a clear space in which to work. All it needs is a workbench with wooden stool and wind-up radio for company. Has anyone invented the wind-up kettle? Well, there's a good project to be getting on with.
Without spending a cent, you now have a cosy little bolt-hole where you can immerse yourself in a pet project
Tools for the job
Inspiration & advice