Tradescantia 'White Fuzz'
spider lily
9cm pot | 20cm tall

£7.99

available to order from spring
2 + 1 FREE 9cm pots
£15.98

£23.97

available to order from spring
Position: bright but indirect light
Soil: good potting compost
Rate of growth: fast growing
Hardiness: tender (indoors only)
Current height: approximately 20cm (+ or - 10% including the pot)
Pot cover: choose a 10cm pot cover to give a good fit over the pot

An eye-catching silvery-green leaved houseplant with gorgeous magenta coloured blooms. The foliage has a curious 'white fuzz' which is in fact, fine, silvery hairs lining the surface of its leaves, which almost look like cobwebs. In its native habitat, the presence of hairs is a climatic adaptation - which helps slow air movement over the leaves, reducing transpiration and water loss.

Please note that the pot in the photograph is not supplied with the plant (which is sent out in a simple nursery alternative), but we have a wide and wonderful range on our website to choose from.


Home care: Make sure that it is in a bright spot but not in direct sun, with a constant average temperature no lower than 10°C in the winter. Watering is simple - water well in the growing season from spring to autumn, then reduce watering in the winter when the plant's growth has slowed down. You can mist the leaves occasionally in a hot summer.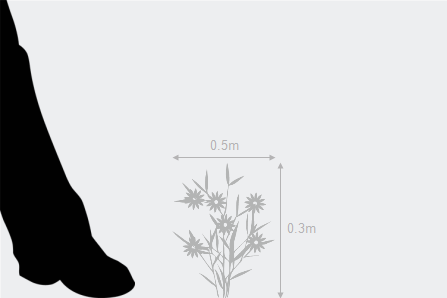 Goes well with
Ø16.5 × H14.5cm
£9.99
In stock (shipped within 2-3 working days)