Philodendron xanadu & pot cover combination
Buy all 1 items for the combination
Sub Total: £44.99
Promotions: -£9.00
Unavailable

Total: £35.99


Position: bright filtered or indirect light
Soil: good potting compost
Rate of growth: fast
Hardiness: tender (indoors only)

A dramatic looking houseplant with deeply lobed, glossy green leaves that form at the end of stems. Unlike other philodendron, this is not a climber, instead it grows in a mounded shape on a thick woody stem, often becoming wider than it is tall. A compact, low maintenance choice for homes and offices, that will

We have paired the plant with our low Aluminium Urb cylinder planter and tray finished in dark rust. The tray allows you to angle the plant however you choose or tilt it toward the light. Planter measures Ø40cm x H34cm, tray Ø24cm x H6cm.


Home care: Water freely when in growth, but keep dryer in winter. Mist the leaves regularly with water to increase humidity and every so often put it under a cold shower to wash off the leaves. Make sure the winter temperatures stay above 10°C, and repot every couple of years.

Please note: harmful if eaten/skin & eye irritant.
items included (click on thumbnail for more info)
Plant
Price
Qty.
Availability
Total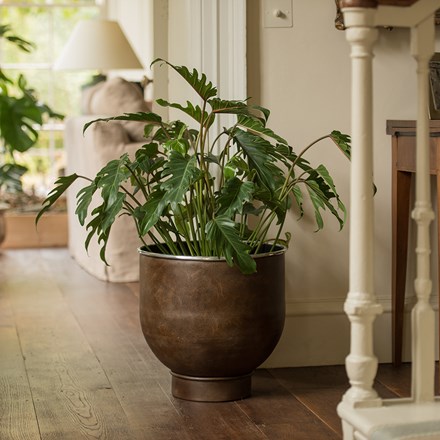 Price

£0.00

Qty

0 (unavailable)
available to order from winter

Total

£0.00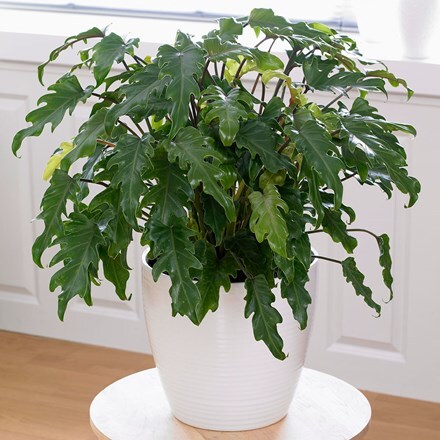 Price

Qty

1
in stock (shipped within 2-3 working days)

Total