Summer flowering bulbs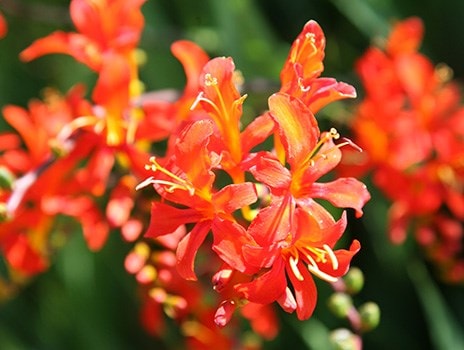 I'm a great fan of summer flowering bulbs. Planted at this time of the year, they provide an exotic splash of colour almost anywhere in the garden. Most are dazzling showgirls that demand attention, while a few have a more subtle appeal. Best of all, if you combine different types of summer flowering bulbs, you can get a succession of blooms from late spring until autumn that shifts the focus around the garden as each one comes into bloom. Or, if you don't want lots of different bulbs dotted about the garden, you can plant just one type. By staggering planting times – adding batches at monthly intervals, you can get flowers all summer long.
At this time of year, you'll find a wide range of bulbs to tempt you; however, some are more reliable than others. I've put together my favourite top-performers that are guaranteed to put on a show.
By staggering planting times – adding batches at monthly intervals, you can get flowers all summer long.
Reliable summer-flowering bulbs
Late spring flowers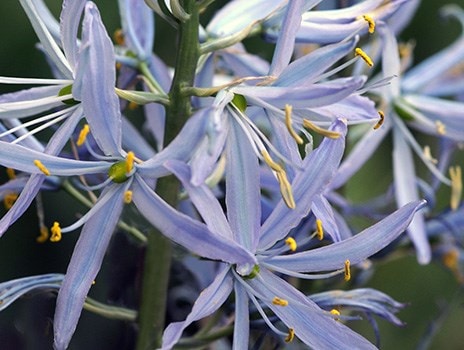 The first summer bulbs start to flower during late spring, with Alliums and Anemones opening the show. For the front of a sunny border, the ankle-high, starry clusters of Allium moly will catch the eye while the Anemone De Caen provides a carpet of red, blue and violet. By planting the claw-shaped anemone tubers during late March, you'll get blooms towards the end of May with later plantings extending the flowering season through the summer.
Further back within a border, the tall, moisture-loving blue or white flowering Camassias launch their rockets of starry blooms during late spring and early summer. Another good choice for a damp spot is the elegantly hooded flowers of the Arum lily. They love moisture so much, that they can even be grown in a pond as marginal plants.
Early summer flowers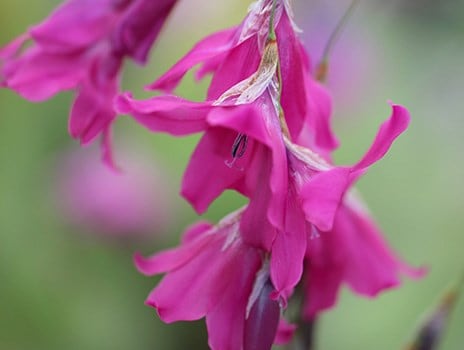 The appearance of the aptly named angel's fishing rod, Dierama pulcherrimum, hails the start of early summer as it casts clusters of pendent magenta bells on elegant arching stems that can reach 1.5m high. Shimmering and swaying in the slightest breeze, they add a wonderful sense of movement to the summer garden.
Another border beauty worth a prominent position is the deservedly popular regal lily, Lillium regale. It produces a succession of highly fragrant white trumpets, each with a yellow eye and flushed purple on the outside – a midsummer treat to tantalise your senses.
Midsummer flowers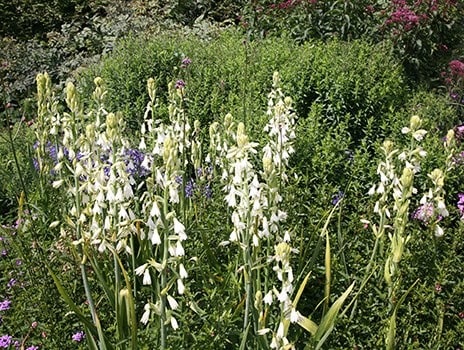 The underrated giant summer hyacinth, Galtonia candicans, is a useful gap-filler, giving mixed and herbaceous borders a boost from midsummer onwards. Tall, upright spikes of delicately fragrant, drooping ivory bells certainly have the wow factor and look particularly impressive when planted in large clumps.
To add a tropical touch to the summer garden, look no further than pineapple lily, Eucomis bicolor, which produces stout, pineapple-like leafy-topped spikes, densely packed with purple-edged, creamy stars. Each spike is held on a purple-spotted fleshy stalk, above a lush rosette of tropical foliage. Since it is not fully hardy, the pineapple lily is a good candidate for a tub on a sheltered, but sunny patio.
Late summer flowers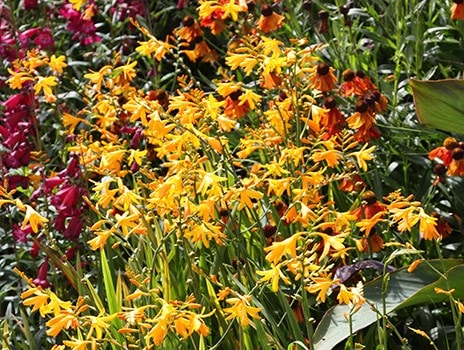 As July turns to August there are several excellent summer bulbs to choose from, with Gladioli and Crocosmia leading the pack. Crocosmia George Davison, for example, produces dart-like spikes of amber-yellow on arching stems, above clumps of strappy foliage, while the tomato-red Lucifer starts a little later and blooms into early autumn.
My favourite 'glad' of the moment is the Abyssinian Gladiolus murielae which produces fragrant starry white flowers, blotched maroon-purple at the centre. Each bloom is held at a jaunty angle reminding me of when I flew a kite as a lad. Bold yet graceful, with a heady scent – who could ask for more?
Tools for the job
Inspiration & advice