Tip of the month: April
Variegated plants
Plants with contrasting stripes, splodges and spots on their foliage are big sellers for good reason, but they need to be chosen with care and used sympathetically to make the most of their striking appearance, says Alan Titchmarsh
If you are looking for a specimen that will stand out from the crowd and is guaranteed to give a long season of interest, variegated plants are hard to beat. But you need to take care when choosing, because not all live up to their promise. At their best, variegated plants are ideal for adding flashes of light to dark corners, while others will cover the ground with an uplifting marbled mosaic. All will provide eye-catching contrast to darker-leaved neighbours and are the perfect antidote to monotonous evergreens.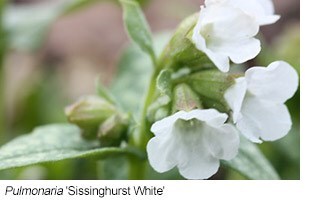 Every year sees the launch of several new variegated plants. The best stand the test of time and become lauded by garden writers and top designers alike, but most fall by the wayside. This is often because the new variegated version of an established plant is weaker and less floriferous than its all-green counterpart. With others, the variegation is unstable and quickly reverts - losing its attraction. But usually the variegated plant just isn't very good, with a distinctly jaundiced appearance, adding a melancholy air to the whole planting scheme. I blame the plant breeders for being far too hasty when bringing variegated plants to market, so they don't fully understand how the plants will look and perform once mature. It's the sort of marketing philosophy used within the technology sector, that end up offering a stream of patches and updates to fix programming faults…but in the plant world you can't do that. Don't be put off, though, since there are still plenty of fantastic variegated plants that will add a new dimension to your garden.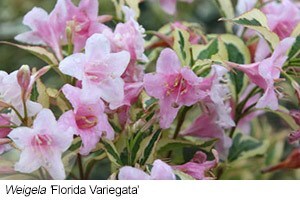 Choosing variegated plants Variegations are as varied as the plants themselves. Some are neat and regular stripes that appeal to tidy-minded gardeners, while others are more haphazard spots and daubs, often with blurred edges. Some variegated plants, such as the aptly named Euonymus fortunei 'Emerald 'n' Gold', look spectacular from a distance while others, like the mottle-leaved Tropaeolum majus 'Alaska', need to be viewed at close quarters to be fully appreciated. For maximum impact, the variegated plant should offer contrast and balance between its variegation and non-variegation. Often the most effective variegated plants are those that don't flower. If they are evergreen, the display is guaranteed all year round. However, my favourite variegated plants tend to be those that offer complementary blooms or other features that add to or extend the overall display as well as provide seasonal variety to the scheme. Take the yellow-edged Weigela 'Florida 'Variegata', for example, which produces a delightful crop of pale-pink, funnel-shaped flowers during May and June, so would look lovely as part of a pink border combination. While the blue-flowered Iris pallida 'Argentea Variegata' with cream-striped, grey-green leaves, makes an excellent addition to a cool blue-and-white planting scheme. The variegated holly, Ilex aquifolium 'Argentea Marginata', on the other hand, is a female, silver-edged, evergreen that produces reliable crops of scarlet berries – adding much-needed colour to the winter garden.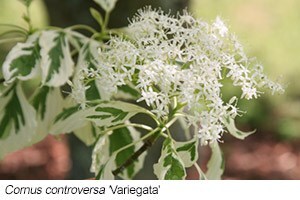 Using variegated plants Less is more when it comes to variegated specimens. They can look great dotted amongst other types of plants, but rarely make good bedfellows with one another. Other planting rules still apply, however, with small uneven groups often working better than individual specimens and contrasting shapes, such as fountains, rockets and blobs, adding to the variety and interest of a planting group. Colour-matching the variegation to complement or contrast surrounding plants always adds impact. For example, silver or pale yellow contrasts with purple for a striking effect. But watch out for the variegated plant's flowers that could add a seasonal note of discord into the combination. Low-growing variegated plants, such as hosta, vinca, lamium and pulmonaria, work particularly well in dark corners, where they will not only help reflect the available brightness, but will perform their best in the cool, diffused light. A few variegated plants are so impressive that they deserve to be given centre stage as specimens in a prominent border, or even in large tubs on the patio. Cornus controversa 'Variegata', is a classic example. Spreading its strikingly layered cream-variegated canopy that turns reddish-purple in autumn. In fact, growing in containers is a great way to isolate the most flamboyant of variegated plants without fear of a colour clash, since they can be set apart from other plants. Growing in pots also means less-than-hardy variegated plants, such as the striking Griselinia littoralis 'Variegata', can be given centre-stage during the summer, yet moved under cover and kept safe during the winter months.


Happy gardening!