Monthly musings: Sterling silver
Silver-foliage plants are the peacekeepers of planting schemes, maintaining their cool when brash flowers are firing off their colourful displays all around, says Alan Titchmarsh, as he explains how to make the most of them in your garden
Silver is the ideal go-to colour when there is trouble brewing in a planting scheme. More iridescent than grey and less startling than white, it provides a quality setting for more colourful bedfellows. Grey and silver are neutral tones and, like white, can be combined successfully with most other colours. They add light and contrast to darker shades and cool down reds and oranges in fiery schemes. Silver-foliage plants are the perfect antidote to clashing colours, allowing skirmishing pigments to sit comfortably in the same planting scheme. They are particularly useful in a tight spot, which is why silver-foliage plants are the perfect understudy in many colourful container combinations and bedding schemes. Silver brings harmony as well, helping closely related colours, such as shades of blues or pink, to blend effortlessly into a pastel tapestry.

Silver stars to add sparkle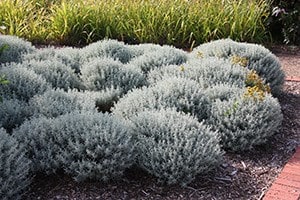 What makes them silver? Silver-foliage plants are surprisingly varied. Ranging from diminutive carpeters, such as the Thymus 'Silver Posie', to substantial trees - like the weeping pear (Pyrus salicifolia 'Pendula') or the whitebeam (Sorbus aria 'Lutescens'). All get their silvery colouring from a coating to the foliage that is designed to protect them from damaging rays of strong sunlight and avoid dehydration. Some, such as Stachys and Verbascum, have a furry coating of tiny hairs that are a delight to stroke, others achieve a similar-coloured effect with a dusting of powder or a smooth wax lacquer, while a few are armour-plated with silvery scales. This gives a range of finishes from high-gloss to matt – even metallic!

It is not surprising, then, that most silver-leaved plants do best in full sun with a well-drained soil. They literally sparkle in the sunlight. Indeed, many silver-foliage plants can sulk if kept out of the limelight, and hairy-leaved plants are prone to rotting if they are exposed to too much winter wet. However, there are exceptions to this rule - silvery plants that can cope with at least dappled shade. The Japanese painted fern (Athyrium niponicum var. pictum) is a case in point, thriving in even deep shade where it will form an ankle-deep carpet of deeply cut, silver-green fronds, suffused with purple. Other good choices for dappled shade include: the silver-frosted leaves of Lamium maculatum 'Beacon Silver'; the silver-mottled foliage of Pulmonaria 'Diana Clare'; the metallic-blue Hebe pinguifolia 'Pagei' or the ferny blue-grey foliage of Dicentra 'Burning Hearts'.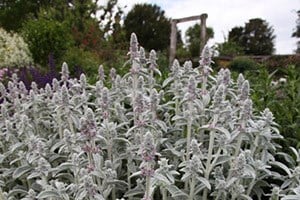 Touch and feel In full sun, the irresistible foliage of lambs' ears (Stachys byzantina 'Silver Carpet') is a winner with adults and children, alike, who love nothing better than to stroke the furry coating of the ground-hugging foliage. Verbascums are even more extravagant, forming silver-felted rosettes of foliage, before sending up wooly rockets of colourful flowers. Against a sunny wall, you could try the borderline-hardy and drought-tolerant Jerusalem sage (Phlomis fruticosa) with woolly silvery-grey leaves, or yellow-silver Ballota pseudodictamnus that provides an equally tactile temptation.

Seasonal focal points A few silver-leaved plants produce a bold statement in the garden. The cardoon, Cynara cardunculus 'Cardy', is one of the most dramatic, producing large, purple, thistle-like flowers above impressive, man-sized clumps of deeply cut, silvery leaves. On a smaller scale, the giant sea holly (Eryngium giganteum 'Silver Ghost') can be just as effective – deploying branching stems of teasel-like flowers, each with a striking ruff of spiky silver bracts. For year-round appeal, the delicate grey-green, evergreen juvenile foliage of Eucalyptus gunnii is hard to beat. The new variety 'Azura' is worth seeking out, because it is more compact and reliably hardy. For architectural impact in a summer bedding scheme, consider the striking clumps of silver-dusted, spear-like leaves produced by Astelia 'Silver Shadow'.

Summer shakers Some silver-foliage plants are perfect for creating a shimmering effect in the garden. Silver-variegated grasses, such as the Chinese silver grass (Miscanthus) with light-reflecting foliage are ideal for this. They form head-high clumps of swaying foliage that turns paler as the season progresses and the feathery flower-spikes emerge. At the front of the border, the blue-metallic, porcupine hummocks of Festuca glauca 'Elijah Blue' look great – ideal for edging or for using more expansively as a stunning shag-pile carpet between shrubs.


Ready-made borders: Blue and Silver border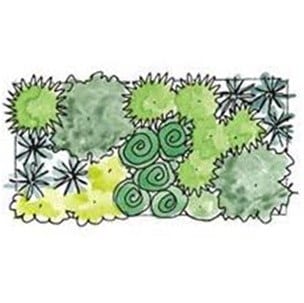 Plants within the cool colour palette provide a calming influence and look dreamy on hot days. They are also useful in smaller spaces as they tend to recede - making the garden feel larger than it actually is. For this border, you will need a sunny bed measuring 3 x 1.5m.

Iris 'Dusky Challenger'
Convolvulus cneorum
Echinops bannaticus 'Blue Globe'
Stachys byzantina 'Silver Carpet'
Geranium 'Johnson's Blue'
Festuca glauca 'Elijah Blue'
Silver-foliage plant finder

Ballota pseudodictamnus
Lotus hirsutus